Gentlemen,
I am looking in upgrade my failing alternator, but being in France where the GM alternators are not common I have to look to other alternatives, like the one from Land Rover or the 115A from the later V12 Jaguar or from the XJ40 as mentioned by Kirby and others.
As I have installed an Audio system I would like to have some extra Amps.
Here are the alternative options and prices for comparison:
Original
AEU1930
Remanufactured
Brand: Bosch
upgraded to 90A
150 Euros shipped
New
Brand: DCP
75A
90 Euros shipped
---
Later V12 Jaguar
DAC5224
Need to change the pulley.
Remanufactured
Brand: Woospa
115A
200 Euros shipped
Used
Brand: Bosch
115A
80 Euros shipped
---
Jaguar XJ40
Need to modify mounting bracket and new pulley
120A
Remanufactured
Brand: Bosch
150 - 200 Euros shipped
New
Brand: Unknown
150 Euros shipped
---
Land Rover 90/110 & Range Rover Classic V8 3.9 & 4.2
YLE10100
13697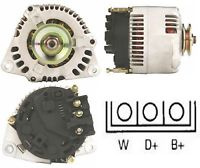 New
Brand: SMP
120A
150 Euros shipped
A very appealing option as it comes with a V pulley and seems to be a direct fit.
---
New
Brand:SMP
80A
No pulley
130 Euros shipped
---
Which option would you gentlemen choose ?
And what would you trust more, an Aftermarket or a Rebuilt unit ?
Of course there is also the option of rebuilding the old alternator my self, rebuilt kits are available and quite inexpensive.
Looking forward to hearing your opinions.
Best,
Aristides