Yay, you! I knew it had to have been a grounding issue.
You raaaawk!
---- that HAS gotta be a great feeling
You are ahead of me on electrical trouble-shooting.
Go to the head of the class
On the outside chance this picture would help anyone else.
The wire marked with the pink arrow was the wire appearing to be black, when actually was the RG wire.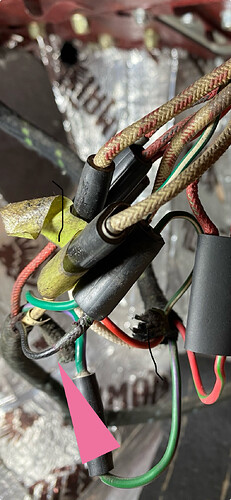 Congratulations!! Hopefully you learned a lot along the way.
Interesting that the one wire turned black while the other red/green pvc covered wire appears quite pristine. Is it just covered with dirt/grime or has the plastic actually discolored?
Put something on it to mark it red green for future reference ,it's odd that it's black any way good work feels good doesn't it
8+ hours of our life we will never get back, can possibly think of better ways to have spent the time.
Feels good to have it in the "rear view" for sure.
Was a total fluke that Tim noted the wire looking odd and traced it back. We were lining up an electrical specialist to trouble shoot, that would have been $$$$
The outer covering with the colored RG material was missing, if you look close at the pink arrow above you can see a little residual material at the distal end of the wire where it enters the connector. What my husband saw that even made him think to investigate as we had already looked over every mm of that wire outside of the loom.
Ah, so it was originally cloth covered. I has assumed that it was a pvc coated wire.
Glad you found it. So you ended up with four R/G wires in the previously 3 way connector. Interesting.
Tom
Yup - Tim for the win on powers of detailed observation
@davidxk (Professor Langley) - I believe your draft write-up is ready for publication; field tested
One way of looking at it or
8 hrs labour 150/ hr tax free 300/ hr 2400$ plus the learning ,big part of hobby cars
I don't think it was an accident, you followed the advice and found the problem, how fast do you think you could find it a second time around?
These cars are old and the people who worked on them are rare so you have to do it your self or have deep pockets to pay someone to learn what you just did .Experts( ya at taking your money)well . No shop or person is going to have the experience, collective knowledge patience to trouble shoot, the way you have access to here . I could name 3 people on this site that have ….100 year's experience working professionally on these cars what a resource .No you just stay here
When I think back to the eighties no internet No anything you were on your own and lots of wives tales to sort
Restoring isn't the same as fixing because of all these maintenance induced faults you discover
It just takes time to resolve the issues
You'll have a nice car
when your done and you did it

Nothing like trying to decipher an old lacquer braid wiring harness. Bloody difficult. Sometimes impossible. Going with PVC was a concession I made when I replaced my XK120 harness - much easier to read the codes and less bulky as well, so easier to install.
Literally had this SAME convo today.
The shop owner where the car is just shrugged his shoulders and said he didn't know.
We won;t even go into how absolutely amazing it is to have youtube, the experts here, the experts that will drive in from Colorado and the East coast to help a stranger out!!
VERY VERY thankful.
(still want those 8 hours back)
"Bloody difficult" is a brilliant description sir Nick!!!