Looks great. Lots of work…
Everything is stripped, degreased and grit blasted where appropriate. Loaded into the back of the car ready to go to the platers and powder coaters.
Inspecting the hub carriers I noticed deep grooving on the seal runner area. Presumably from loose/failed bearings.
So I made up some sleeves out of 4140 CroMo, machined the carriers and pressed the sleeves on. I love this sort of stuff.
Nice job what was the wall thickness?
Nice set up, a bit bigger than mine
I got lucky at an auction at the local tech college.
Ah, to have a lathe and a mill to hand, again…
Couldn't live without mine. The bigger lathe in particular is a godsend. I had the whole stub axle carrier mounted in it and even running at around 200rpm there was no discernible wobble or vibration. I cut the seal runner down to exactly 1.700" with no problem at all.
Got my new front springs and anti sway bar from Leda today. Under a month since ordering, delivered to my door in Australia for a total of AU$1000.
The antisway bar is 1.014" thick; the original is 0.691". It is massive in comparison.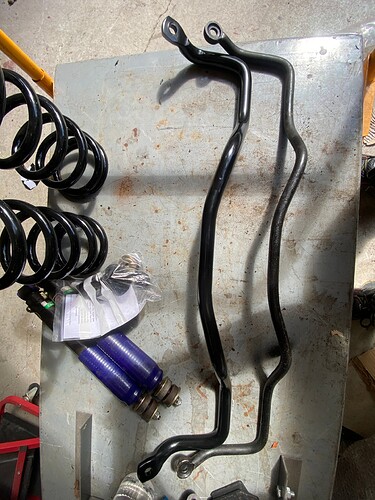 Stock spring is 14.49" high, made of 0.634" wire and has 7.75 turns.
Uprated spring is 13.89" high and is 0.663" thick with powder-coating, so probably made of 0.650" wire. It also has 7.75 turns.
To be honest I was expecting beefier looking springs with less coils… Apparently a 1% increase in wire diameter produces a 4% increase in coil comprssion spring rate, so these springs are 11% stronger. That would make them 350lb per inch.
I have rebuilt the steering box, replacing the seals and ball bearings.
It seems to be in good nick. I only had to assemble it 4 times to get it right.
I'm waiting for all the bolts to come back from plating so it's only got temporary ones holding the ends and top on.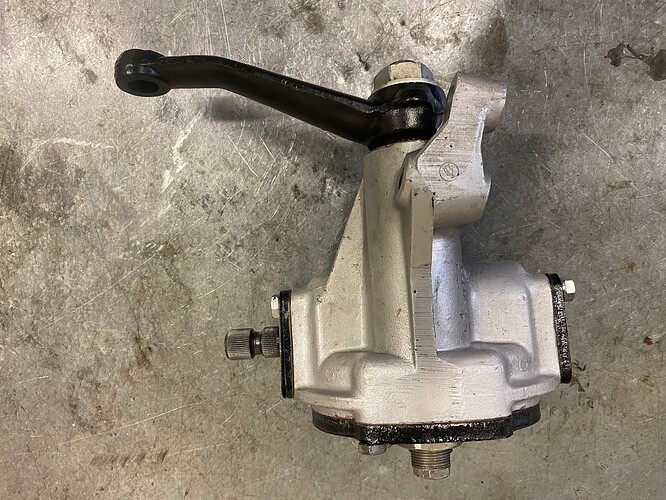 Re-kitted front brakes with new hard lines.
And yes, I know I have the lines on backwards in this pic…now…
Ooh! The plating's back!!
Very , Very nice!
Tell me what you think of those brake pads when the break in!
Great job!
Gtjoey1314
I wonder how are You planning to reassemble the steering drag link ends (picture bottom) …
I thought the rubber bushes are/were non-removable.