I've been driving etypes for over 40 years and yes, I still think its special every time I take one for a drive. Jeff S. Atlanta, GA
Oh man, finally pulling the plug eh? It's a great car. You should be proud of all the hard work!
I'm 67 years old and have driven my early 1967 E-Type since May 1971 when I was 18 and my dad and I bought her as a shop project. I lust after no other car except the original late 1950s Ferrari 250 Testa Rossa. These two cars can be included any time in the same sentence, along with no others, IMHO.
"I've only driven a couple of classic cars"… end of any credibility for Scottish man.
Compared to a 2020 Toyota Blahwagon, of course they're crap, and they always will be. No mod cons, no safety features, build quality of a non robot assembled, mass produced vehicle from 1960 will always be poor. James May is right ,as he invariably is.
But they are what they are, and that's why we love them. It's hard to start. It's hard to get into. It smells of petrol and deafens you with wind noise. And don't try to reverse park it.
But it's an E type. I own 3 of them. No one pities me for that.
I have never driven or ridden in a 3.8 but I have always been impressed with how easy to drive and comfortable my 4.2 is (except in the summer without AC). None of the harshness or poor handling you find in many 60's-70's cars. In that respect I think it compares quite well to much newer cars.
David
68 E-type FHC
Step out of a brand new performance car ( Porsche , Merc etc ) into an E and it will feel awful . That`s 60 years of progress .
Driving my E-Type provides the mental pleasure that is hard to duplicate, you have to think about what you are doing, using a cell phone is out of the question and it makes the endorphins flow. On top of that it is still cheaper than going to a psychiatrist. My new(er) Jag convertible doesn't do any of that.
Last year I was thinking of selling the E, and buying an Aston after riding in a friends. But gave up on the idea. Yes the Aston was fast, good looking and powerful, but as someone has said, the Jag requires the driver to provide constant input. You actually have to drive. It is instantly recognizable and appreciated by the public, and satisfies the tinkerer's urge in all of us that own them
I wouldn't characterize it as awful, I will say it's different. It depends on your expectations. If you expect a 60 year old car to feel like a modern car you will be sorely disappointed. If your expectations are that it will feel like one of the best cars of it's era you will be rewarded.
It really depends on what brings you joy, I guess. When I reflect on my most memorable and enjoyable moments behind the wheel, a car's not even in the running…
RobY
100% agreed: apples to kumquats.
Now that takes me back 50 decades. I spent many a day on a 4020 cutting hay. No cab on the tractor tho. That was a luxury feature.
Edit 5 decades. I"m old but not that old.
The ride and the way it "points" is amazing for the era and not that shabby for the '80's, anyway. The Moss is just an odd game you play while driving an otherwise more slick device. Our latest, a C2 Corvette rides and points much worse, but shifts worlds better, so old cars always were evolving. An E-Type, I think, is unique, as it has things about it that are so, so different than would be tolerated today - yet you can't say it's old fashioned, more like unique.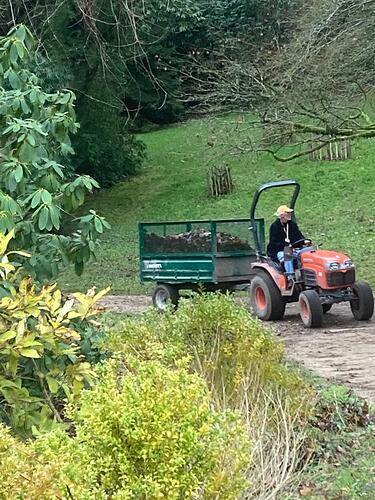 I also drive a modern vehicle that is painfully slow, far noisier and less comfortable than my E, and it doesn't stop me getting wet when it rains.
Jaykay says: "Driving my E-Type provides the mental pleasure that is hard to duplicate, you have to think about what you are doing, u…"
The way I describe it is that this is a car that "you drive, rather than ride in".
LLoyd
Fight for the things that you care about. But do it in a way that will lead others to join you.
Ruth Bader Ginsburg, Supreme Court Justice
When I turn the key, hear the fuel pump run, stop running, turn the key and in anticipation of hitting the starter button, I often think of spinning the prop on an airplane and waiting for it to fire up. Contact!
I like to shout "chocks away!" While the pump is priming.
When I hear the clicks I think, "Well, thank god that's working".