Thanks.
Some might say that I like blue.
Both are actually blue, though they look a bit purple in this shot.
Greetings, Fellows!
Jim here, in SW Louisiana. LONG time forum member, but I haven't posted in years! Just acquired this CPO 2016 F-Type about three weeks ago:
It's a 'base' V-6, but with all the bells & whistles. It's absolutely pristine, with under 11,000 miles on it, and I consider that I got it at a very good price. Unfortunately, though, the Nav system hasn't worked since I got it, and it's been in the shop for the last two+ weeks with no success so far!
Other than that, I sure love the car!
Jim,
Beautiful car, congratulations! And welcome to the F-Type forum!
Gunnar
Enjoy it to the max! At least you can drive yours now. Lot's of snow here for a couple more months. And currently-30°C.
But…but…the sun is shining!
This is my F-type, 2015 S, Sapphire with Cirrus interior, extended leather. Then I did my first oil change and took a picture with my eType in the background, a 1968 2+2, Opalescent Silver Blue with Dark Blue interior…This year at Hope Lodge will be fun!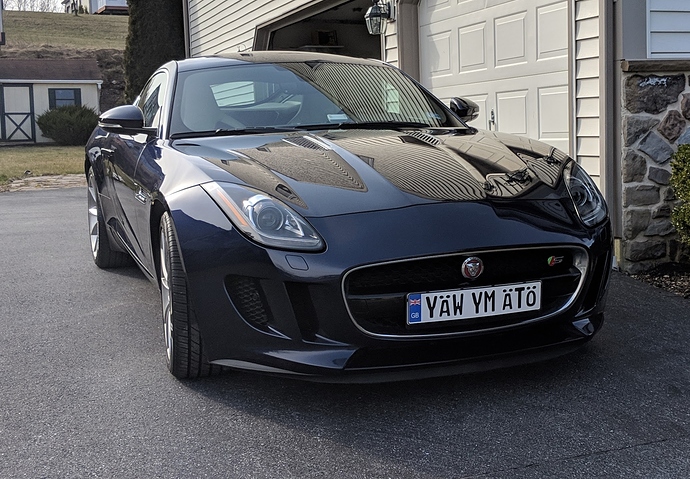 Gorgeous car(s), welcome to the F-Type forum!
Gunnar
Good looking motor. Mine is the same exterior color. A blast to drive.
Congratulations
Are you happy with your covered headlight conversion?
Mixed feelings. I think they make the S3 look a lot better than original, but they are not easy to install.