Has anyone found a replacement crank handle for the windscreen.
In case you need a picture, here is what mine has.

The Jaguar Part No. is 1715/A. Someone will have a spare.
Tim
Thank you for the part number. Hopefully you are right and someone will have one. I have considered making one, but it would be very difficult.
I got curious to know if there was a manufacturer's mark on it, so I removed mine, but there was no mark on the chrome handle. The plastic knob is marked Cox & Co. Pat. No. 376452. The handle fits a shaft of 3/8" dia with 20 splines. The screw is a 2BA x 1/2" chromed round head. The shoulder screw for the knob is also 2BA.

The inventor of the crank opening windscreen was Rowland Wilton Cox of Putney, who filed his patent in 1931.
Grace's Guide found some advertising.
Cox & Co was also in the tubular seating business and may have made the front seats in my '38, something I may investigate some day.

BTW Dennis, you can edit the spelling in the topic title.
Rob,
The handle is the correct one. I have 2 Mark IVs and one handle. Let me know how much you want for it.
Dennis
No, I just have the one, which I put back on my car.
I just thought you might not know what was the correct one.
Hi Rob,
I'm guessing that these winding handles would have been fitted to other English cars of the period? Would you happen to know which ones? It might give Dennis some more avenues to look down in order to find one.
Best wishes,
Tim
Dennis,
You could try Davenport Cars in UK +441767650271
Best regards
Polti
Rob,
this is the identification plate on my MK IV ('48) front seats
rgds
Polti
![tempImageP07e0B|666x500](upload://9KS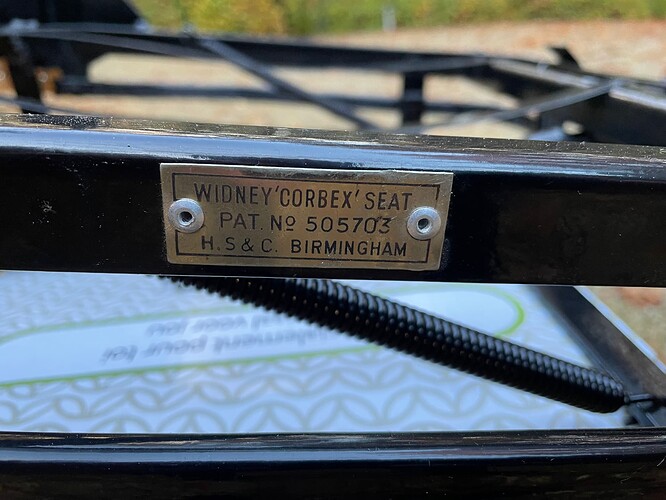 SygylcHS4LmY7RrfrPQwS1N4.jpeg)
I believe Rover cars (in the UK) of that era also had similar opening windscreens, but I don't know if the handles interchange. Photos of the Rover 16:

Hi Polti,
Same company as all MKV front seats (both Saloon and Drophead seats, although the have a different structure, as the DHC seatbacks tilt).
Cheers!
Thank you for your encouragement. Hopefully the word will get out, and the handle will be found.
I was able to find the correct windscreen handle in Australia. Thank you Peter, and thank the rest of you for all of the information.