I picked up a 73 XJ6 project the other daaaay…( a couple years ago), and it's been in storage untouched ever since. I initially bought it because it's rust-free (basically) XJ6 Series 1, short wheelbase, 98% complete, and it's especially interesting because someone has swapped in a manual transmission and triple SUs from what I believe is an E type or Mk10. This is a California car that still has blue plates with stickers from 1989. I have a full time job as an industrial designer, but I do run a small non sponsored youtube channel where I document all my builds; here's the first video on this build, please consider subscribing if you don't want to miss future episodes: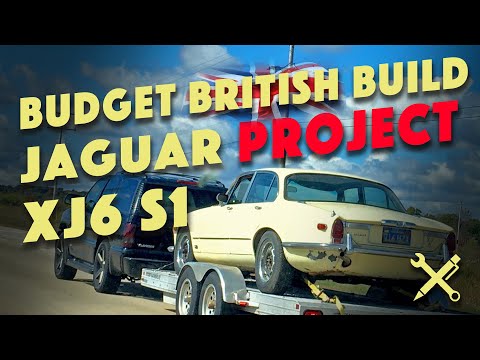 Alright, so I just dragged the kitty back to my house to get this thing roadworthy, yesterday:
First step: Get it running
Now, I have heard this car start and grumble on starting fluid when I bought it 3 years ago, but there seems to be a fuel issue now… mainly the fact that when you turn the key, I hear the fuel pump turn on, and fuel starts pissing out of the bottom of the engine compartment. I've narrowed down the leak to a fuel line that runs right about here:

It's a small black hose that is absolutely pissing fuel at a huge rate, creating a giant puddle. I'm a complete newb to these cars, but I'm expecting I'll have to pull the carbs to access this area. While doing this, I'd also like to drain the fuel tanks, and replace the fuel filter. I believe I've found the fuel filter in the trunk, near the spare tire, barely visible in this photo:

How would I go about draining the tanks? Is there a drain plug somewhere on the tank itself? Is that was those things are behind the rear wheels?
Thanks for the help, and if you don't want to miss the next episode, make sure you subscribe, but again, I have a real job so I'm not going to beg you guys. You either find it interesting or not, do whatever you want.
Cheers!