So, the heater wasn't working, not that I need it, but I like all things on my cars to work. Also, nice for fall/early spring driving.
Removed a couple of the HVAC water hoses from the behind the firewall heater tubes to determine if I have a blocked heater core, valve, or something else. This was after feeling the hoses on a warmed up car and determining fluid was NOT running through the heater core. Pulled off the upper heater core hose and the water inlet hose to the valve to test the water valve with compressed air. Not working, air would not flow. Time to remove the water valve (cable working) and see what's what. Well, what's what sucks. The whole thing is corroded with the part of the tube piping forward of the firewall "welded" to the valve and now separated from what's left of the tube. Ugh. Believe me, I was gentle in coaxing off the valve having done some reading here. The parts of the tubes exposed that are projecting from the firewall don't look too terrible, but need a testing and cleaning. I do see that the firewall plate is missing where new rivets were put in (previous owner) at the heater inlet tube. And the plate on the tube to the left of the corroded valve tube rotates, the tube can be pushed in (rivets somehow sheared). I will bypass the entire HVAC water system for now and probably flush the cooling system.
So, fellow S1 enthusiasts, how do I proceed? How much ripping apart do I need to do to replace the ruined tube from the valve to the heater inlet. Is there a way in? I was hoping maybe from where the heater box connects to the firewall, but from pics I see it doesn't look that way. With the top off the dash, can I reach down with the windshield in?
My friend, and learned member on this board, Tom D, did point out the silver lining. At least I'm not discovering the problem stranded on the side of the road with antifreeze pouring out from under the dash. I'm grateful for that.
Thanks in advance for any help,
John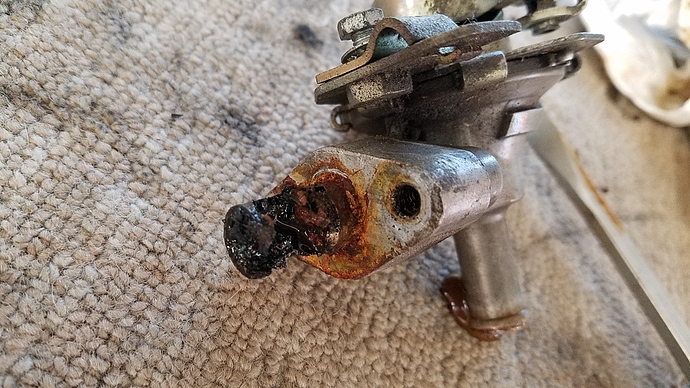 !
20190628_202611|281x500