Hello everybody,
I've got my overdrive repaired by odspares in 2007, or 30.000km ago. During that time it worked reliably, but it kicked in rather hard, i.e. a pretty loud "klonk" or similar sound, you get the idea
I never switched it on while accelerating, I just kept the 4th gear in, lifted my foot from the gas pedal and flicked the switch…KLONK
Ok, per recommendation of odspares, I was using 20w50 mineral oil.
Now, after 30.000 km the overdrive gave up the ghost.
Fault diagnosis revealed:
Oil pressure is around 100 psi (at approx… 25 km/h) which is below spec (490 psi).
Oil level is ok (20w50 mineral oil)
Solenoid and lever adjustment are ok
Filter was/is super clean
No heavy deposits in gear box oil (so clutch is ok I guess)
Spring in accumulator piston assembly is ok
Actuator valve was/is clean, ball seat looks ok
The ball/seat of oil pump no-return-valve looks ok
I've reseated the ball valves in the actuator and no-return-valve.
Revisiting the oil pressure revealed:
The pressure is constant at 100 lb/sq.in. @30 km/h, 300 @80 km/h, regardless if engaged or not engaged (the first measurement of a series, though, showed 0 lb/sq.in. I guess the accumulator was empty at this moment).
Finally, I extracted the accumulator piston, which was sticking really really hard in the bore! I had to use a brake caliper extraction kit like this: https://www.klsupply.com/general-equipment/brake-caliper-pist-puller-set-35-6885.asp
The piston and the rings have marks and scores but they are not broken. I noticed that the rings were covered in swarf, and didn't expand at all after the piston was extracted: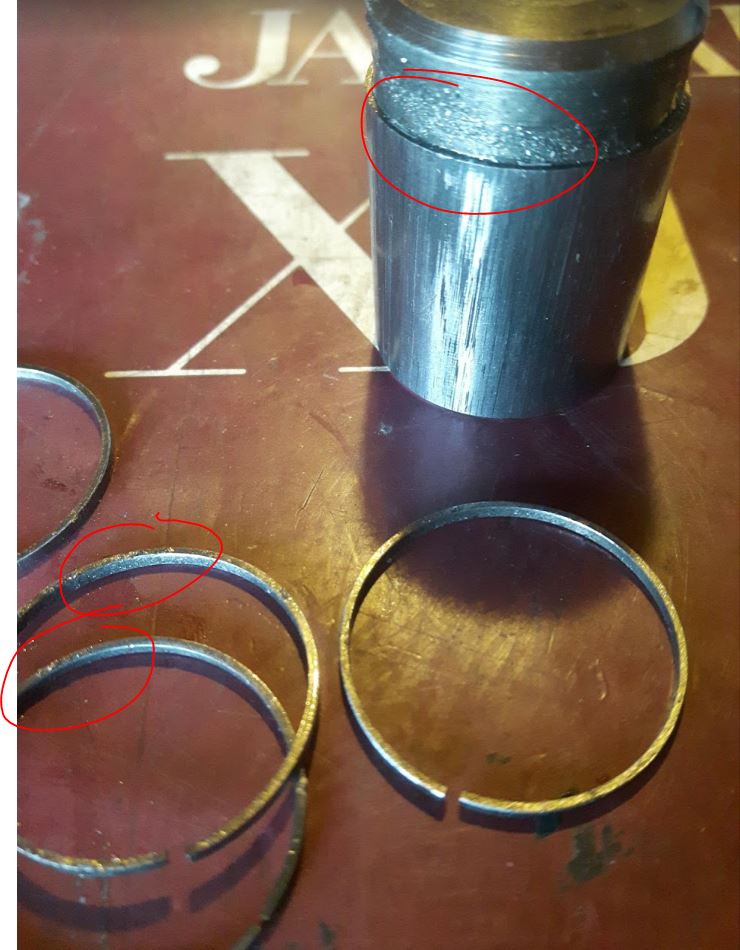 I've ordered a set of new rings and would give it a try.
What are you guys saying?
greetings
Dan