I have had reason to review my holdings of the so called 'original' Jaguar SERVICE BULLETINS that most people believe started at BULLETIN No.1 (Dealers) of 14th August,1946, see below…
I say 'so called' as indeed there were some 'earlier' Bulletins…
There were actually three versions of BULLETIN No.1 the other two being deliberately different content for (Main Dealers) and (Distributors) both dated May 1946 which explains their respective roles in the handling of this new initiative of Service…
But of immediate interest is that many years ago when I obtained a very complete set of these earliest BULLETINS from a UK Dealership - thus the Bulletin No.1 (Dealers) as scanned above - there was included several earlier Bulletins that I can only presume was all that was available to an immediate post-war Jaguar Dealership…
The immediate earlier one was issued by Jaguar Cars and is dated April, 1946 - see below first page of 2…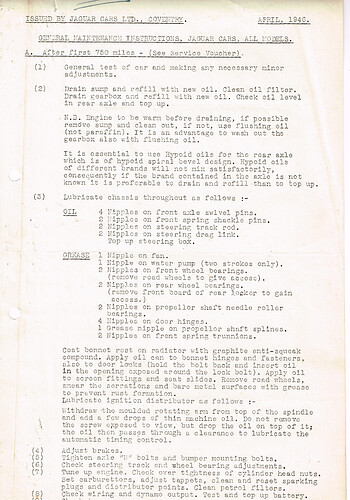 My original is a 2 pages foolscap size sheets, so sorry about my A4 size scan of only page 1.
But then earlier again was a few STANDARD MOTOR Co Bulletins from 1945 and 1946, with SERVICE BULLETIN NUMBER 7 of 7th February 1946 being the last, and as shown below (again original is foolscap).
Now I only have No.3 (November 1945) to No.7 of these Standard Bulletins, but presumably there was a No.1 and No.2, and was there any later than No.7 ?
So can anyone advise/comment about anything else re Service Bulletins for Jaguar post war, and indeed was there anything at all issued/provided pre-war for SS Jaguar, noting of course the Standard relevance to 1-1/2, 2-1/2 and 3-1/2 litre SS Jaguar and Jaguar mechanicals etc.
Would love to liaise /compare notes re anything on Bulletins or other Technical Literature from 1930s and 1940s…