Hello everybody,
following the recent thread on fog lights installation this is meant as a write up for those thinking about the same thing and looking for info - so please apologize if there isn't much new written down here. The entire thing is going to be split up into three parts - pt. 2 will be about the wiring, pt. 3 will be about the installation of the fog lights.
The problem:
Plain Jane Jaguar XJ6 SII cars came without fog lights, but the lighting switch is prepared to do the job and the entire wiring is already installed. So fitting a set of fog lights is no big deal.
The OM indicates that to turn on the fog lights the lighting switch needs to be pushed in and turned to the last position indicated "Fog".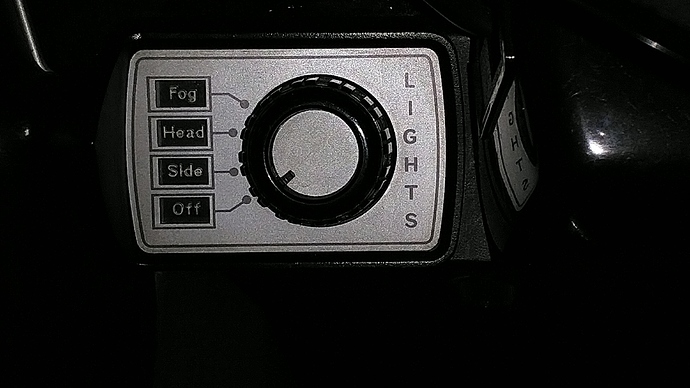 Unfortunately, the switch won't let itself be pushed in. As on "Fog" the main lights will be turned off, Jaguar didn't want to leave drivers of cars without fog lights to be left in the dark, if the switch were to be pushed in and turned inadvertently.
So, first of all, the stock four-position switch (in this case the earlier switch C.38628) needs to be activated. The procedure has already been described by Gregory for SIII cars in JagCare; for SII cars it is almost identical.
remove the driver's side underscuttle casing
slacken the two screws of the clamp holding the switch
pull away the face plate; be careful not to damage the fibre optics wire while pullng it off
remove the clamp
now a small hole is accessible that permits you to poke through a fine allen key and depress the locking tab at the switch shaft in the direction of the red line on the next pic


then pull out the knob
remove the washers
remove the nut (13/16th")
use the knob to test the function as described above: now the knob should let itself be pushed in and rotated to position "Fog". If your battery is installed again, the main lights should go out.
If the test worked out correctly, reinstall everything. Your fog light switch is enabled.
(to be continued)
Good luck
Jochen
75 XJ6L 4.2 auto (UK spec)