Lovely new listing on BaT:
Chassis number 49026. Current bid is $121,000.
Seems to be nicely restored, but I wonder why it has the chassis frame painted light brown? Isn't black more usual?

Fuel pump bodies are also a brown or brass color. Anybody know anything about that?
I wonder why the instruments have blue lettering.
Peter
Well, I know whos selling it and wish them well…
I think though the jcna scores, show something…anyone tend to agree.
Somethings are wonderful and yes the copper frame and all, ehhhhh
The white/blue silk screening, maybe to good.
I love the car and contemplated it, but theres something…
SU fuel pumps in these years had brass bodies.
Ok thanks. I see Burlens still sells them, model type AUA 25B.
The aluminum body pump is model type AUA 25, which my '38 has.

Is this brass pump just SS100 owner bling, or should all '38 cars have a brass body pump?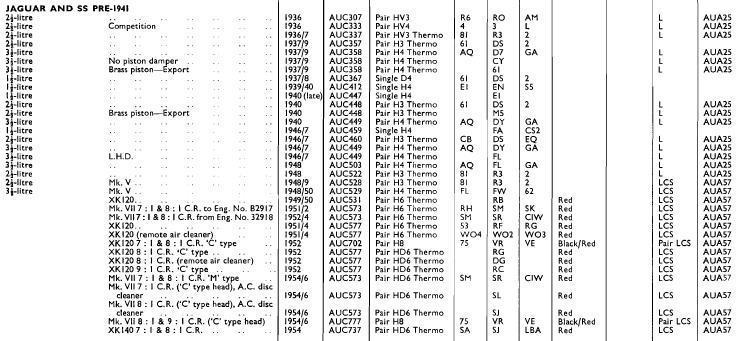 The AUA 25B is not specified for anything in the SU lists I have.
Rob, SU pumps pre WW2 had brass / bronze valve bodies.
If you'r '38 is fitted with a Ali valve body SU, will this cause sleepless nights?
Hi,
I have seen blue lettering on some SS gauges, but I think those were for ca 1935 SS1 or SS2, I mean unrestored items that Worcester Classic Spares had at their stand in Stoneleigh some year. I think Ed might know a lot more about original SS100 gauges.
There was an optional extra for SS1 and SS2 for some colours where the wheels and underbody could be painted in a contrasting colour, I am unsure about how long that was available from the factory, we can of course check the archives or Allan Crouch's books which I think I have all in the bookshelf.
Cheers!
These are the original, unrestored gauge faces on 1938 SS100 #39064. I laid them on my stainless steel work bench for color/contrast. The blue needles are are dark blue that I've been trying to match. The printed numbers are also dark blue. I have some spare gauges and have tried various paint polishes to clean up the faces because I'd prefer to use the original faces if possible. The reproduction faces are very well done, but seem "bright". Hard to say though since a 1938 car that probably had its top down for most of its life has had a lot of sun and fading.
Hi,
Nice! And your (S. Smith & Sons) speedo is in "KILOMETRES", where was that car sold when new?
Cheers!
It was sold new in the Netherlands, one of three SS100's sole there. It was in one family's ownership for 60 years. Dave
Looks like the bidding stopped at $415,000 not meeting reserve.
Anybody have any thoughts on the tan colored chassis?
I thought they were usually black.
Apparently, not an issue to any of the bidders.