I am in the process of aligning, reshaping and fitting the bulkhead side stiffener (MRE9BLH) , bulkhead side panels ( MRE9LH) top skuttle panel (MRE116) and doors on a new sub frame assembly.
The new outer sills are screwed in place and I am pretty happy with the alignment of them so far.
I have found that the shape of all of these panels requires some panel beating to get the curvature and position to match the doors and a straight line down each side of the car.
I thought it would be preferable to get the shape and position of the front edge of the side panels to match the bonnet at least as far as the blending of the shape up from the sills is concerned whilst checking there is a straight line front to back measured just above the rear wheel arch.
I tried making a template of the bonnet but found this was not much help as the bonnet shape is so variable given it is not rigidly assembled and is not bonded.
What I believe will be most useful would be to have the "correct " overall dimension across the bulkhead side panels in the plane of the firewall. see Photo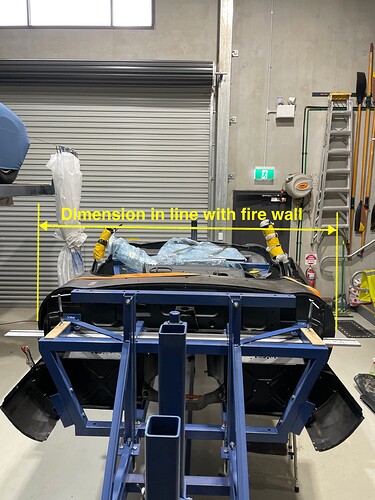 In my search of the forum I could not find any reference to this dimension but I suspect that those experienced in e type bodywork may have at least a reference dimension to which they work in building up a body.
I am very much a novice at this and hence any advice and information would be appreciated.
PS. I have run out of You-tube videos to watch that a more specific on the alignment issues - perhaps I have missed one?