Searching for a few items. I got quite a bit through David Boger and some things from eBay, but still on the
For a 1987 XJ6 in Talisman Silver exterior (MDF) and Savile Grey interior (LDY)
---
Floor mats. The over mats, not the base carpet. With the "JAGUAR" in the carpet.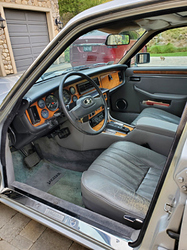 ---
C-pillar interior trim panel. Non-VDP
---
Jack set, trying to upgrade the condition, so I'm really only looking for mint condition.
---
B-pillar interior lamp lenses
---
Console switch backing plate. Nicer than this:
---
–
Please always be careful before sending money or valuables to someone you don't know. Use an escrow service if you're not 100% certain of the identity and integrity of the person you're dealing with.
By using this service you agree to resolve any and all disputes with the other party directly, and to indemnify and hold Jag-lovers harmless from any claims, losses, liability, or expenses (including attorneys' fees) that arise from your use of Jag-lovers and this service.