Last year my son and his wife had a opportunity to go on a cruise ship for a week. So they booked passage on a huge cruise ship called Harmony of the Seas.
They went on the cruise and had a lovely tour of some of the Caribbean islands.
Well, two days ago, we finally all got together and they showed us some pictures they took last year while they were voyaging aboard the ship. He has some sort of an adapter cable which can display images from his iPad on our tv screen.
Here is the very first picture they showed us, showing a place called the grand promenade, inside the big ship.
By luck they had captured a partial image of some sort of shiney green convertible sports car parked on the deck of the grand promenade.
My son, having little interest in cars, and apparently forgetting about our XK140 which has been sitting in the garage or in our driveway since well before the day he was born, said he thought it was a MG.
After viewing many other pictures, including several images of the Robot Bar, where all drinks are mixed up and then served by robotic arms, this image came up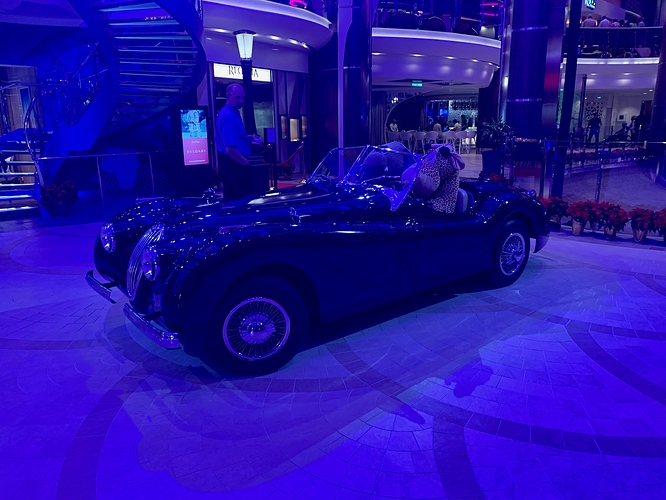 Sure looks like he took pictures of an XK120 on display for vacationers onboard the big ship to enjoy looking at.
Something about the wheels doesn't seem right, so perhaps the car is a replica, but still, someone, somewhere, decided to make the inside of the beautiful ship look even nicer by displaying this cool looking car.