It is like everything else
Roger Maris vs Aaron Judge. Who is better…?
He's a hoot. So warm and unpretentious, and he knows how to have fun. I've been watching his vids for years.
Doesn't take himself too seriously. I laughed when I saw him doing spinnies in the E-Type. Sacrilegious! Deserves all the success he gets.
Yep your correct…. This car will have a 3.54 diff which is great for burnouts……but lousy for long trips …… no wonder he wants to leave the patina as is !..… those rust areas shown are just the tip of the iceberg I think …… ….if he starts to poke and prod I'll bet it will need a complete body resto…… mind you at his buying price it's still a good starting point …… which brings me to my next thought ……. Are you best to buy a car like that ….or one that is obviously rusted…… the difference in resto costs will make up the difference in initial purchase price probably………. For me I'd rather know …but for others ?
Danny,
I'm with you on this. That bubbling paint on the sills and elsewhere is a sure sign of nothing nice (or even nothing at all but newspaper and chicken wire) underneath. If you start probing to determine the extent of the problem you could quickly be finding your car off the road for a year or more. I know I'm not the only one…
When he pointed that out the rust without much of a concern I thought to myself: you poor clueless bastard….
Hi Danny. I'd love to come down to see you one day - maybe this summer?
It won't be in an E, but in one of my two toys! I think I'll wait and get one that's well restored, but not so pristine that I'd be worried to drive it. I will rule out any 2+2 or Series 3.
Hoovie knows that car is pretty down at heel, but he doesn't care. I wouldn't buy it though.
Sure no worries Tom I wouldn't touch a series 3 either…. I like the shape but not the v12
And there is…a little bit of rust
I wonder if that sill flaps in the wind when he does burnouts? Did he say somewhere how much this cost? I'm sure there is a price at which it made perfect sense. I couldn't hazard a guess what that is. He should probably find a way to relocate that battery to a place that can take the weight of it.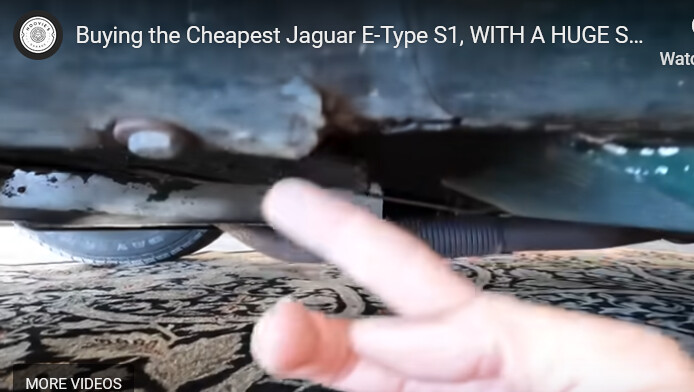 A decent price I believe, especially if the car is correct with all the proper bits.
Thats close to fair in my view.
A little too much YouTube Kool-Aid
Enzo
266 hp
150 mph
Early cars had no synchros
E-Type drivers are really rare
Burnouts on old tires
Ect
But we all start there. Good for him.