Looking for some pics of your great sedans. A small description would be great
Sure, say no more.

Here are pictures of my Jaguar Racing Green/ Magnolia Canadian market 1990 V12 Vanden Plas. I am fourth owner and this car has just over 100K miles on it. I purchased it in 2011and I have done most of the work on it myself since then with a lot of help from others on Jag-Lovers.
Paul
after almost thirty years in the garage.
Front hub caps work in progress to get Jaguar motifs fixed … otherwise driver car in largely original state.

Best
Jochen
75 XJ6L 4.2 auto (UK spec)
1986 series 3 XJ6 built July 1985 still wearing factory paint, equipped with 7 inch headlamps, pepperpot wheels, and rear parcel shelf rear headrests
This is our '72 Series 1 - since 1987. A full strip and refurbish after 23 years in garages in three states. Paul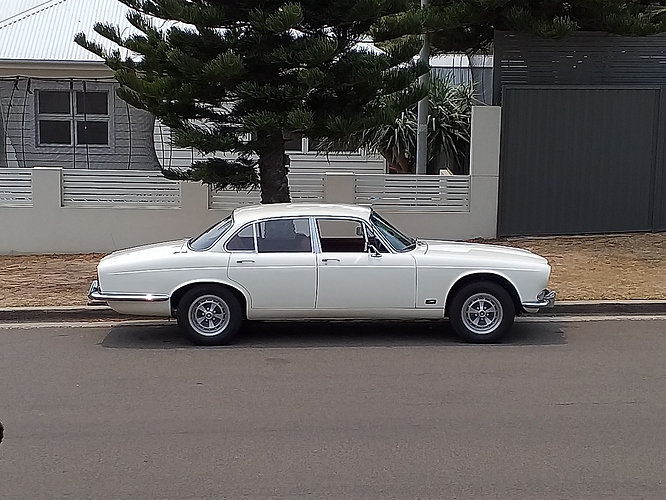 Beautiful. Looks good with the series 3 Kent alloy wheels. Front end looks a bit high, but perhaps tires are not 205 or 215 size?
They are 205 tyres and it's on its original springs. Admittedly does look high, but it is level! Paul.
Usually not a fan of white cars, but this one is a beauty!!!
Carl
Nearly identical to my 'rent's '71!
Thanks Carl, OEW with red interior. My wife bought it when she was in her mid twenties - not married then. Everyone else's girlfriend had a Corolla or Mazda 323. She's still classy. Paul.
Yup!
Classy gal., classy car!!!
My dear departed was classy. She loved "her" Jaguar.
It is still in the garage. Ready to go if my quarantine is ever relaxed !!!/
Carl
Carl,
Don't let your XJ6 sit for too long undriven. Take it out for an appropriately social distanced drive soon.
We let my wife's 1990 XJ-S convertible sit for a few months while I worked on a few things and we weren't driving much due to the general virus shutdown (we remain healthy). When I started it up the first time the radio wouldn't work (antenna up but lots of static), the convertible top switch didn't work, and the radio antenna wouldn't fully retract. I cleaned the antenna mast and raised and lowered the convertible top a few times and now everything is working perfectly again. I am sure the car was letting me know that it doesn't like sitting undriven.
Paul
Yup!!!
As it "messed up" last outing, I am leary of getting a ride back on a flat bed!!! Same cab with the tow guy!!!
I have been firing it up every couple of days and backing it out in the drive. and let it idle til the E fans come on. sorta good, sorta not so much.
Plus I need the space to play with my other toys. I've been making rustic holders from tree prunings for solar powered yard lights/ I had a bunch and my son gave me a bunch more!! Could just stick them into the ground, naah too simple, got to amplify!!
One is on a limb vertical and is a marker as to where to put the right rear of my Jeep as I back it in to the drive…
Both of you, stay safe…
Carl
Carl and Paul,
you're both in California and California is struck quite severely I understand. We were lucky to be closed down soon enough and well enough, but different from other places in the world never were forced to stay at home. Our authorities were smart enough to leave home improvement shops open turning "home office" for many into a redecoration and gardening boot camp. Plus open roads, great weather and cheap fuel made a nice setting for classic car and bike getaways in the afternoon.
Yet, in your shoes I 'd be reluctant to go out as well! Stay safe!!
Jochen