Was looking for a correct Lucas Wiring Diagram for my 1954 Jaguar XK 120 OTS. I do have the FHC version for 1952 - 1954 and I'm possibly able to "deduct" some of the items the OTS doesn't have, but nevertheless: does anybody have the OTS version for the later years?
The subject has been dealt with in the past (with an important contribution from Roger P.) but not everything became clear. When I started making an inventory of Lucas Wiring Diagrams for Jaguars of the Fifties, I soon became confused. Lucas used a number for every wiring diagram they made, but it's not just a sequential system: For example: XK's are in a different group than Saloons, and also the system changed over time.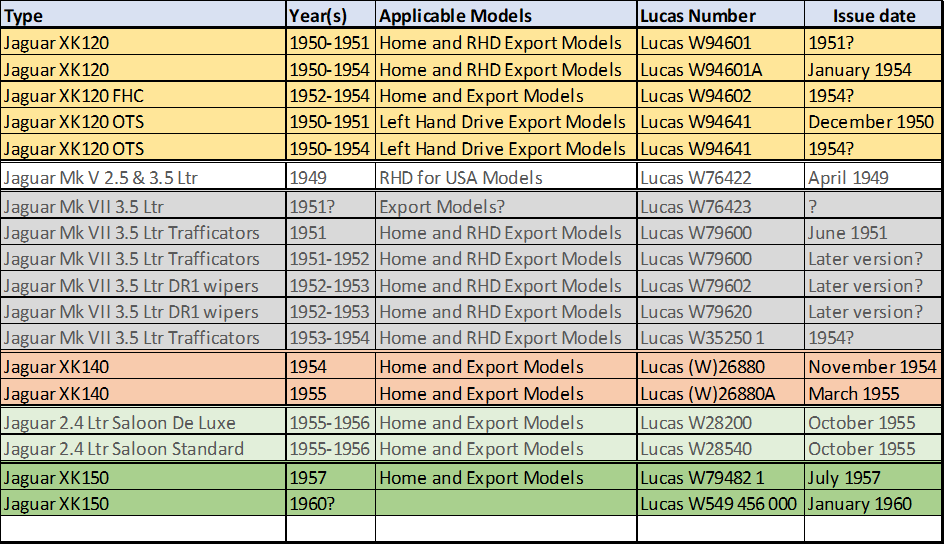 The above spreadsheet tries to map the developments in the Lucas Wiring Diagram numbering system. The Saloons (commencing in this survey with the Mk V of 1949) had a W76xxx number. The various XK 120 Diagrams received Lucas number W946xx.
But with the introduction of the XK140 the numbering changed and these now had a 268xx number whereby (possibly) the W had dropped. Are these examples much later issues or did the Lucas system change indeed? The Jaguar 2.4 Ltr Saloon received again another number W28xxx, more in line with those for the XK 140 but completely different from the numbers for the other MK VII Saloons.
The Jaguar XK150 started with W79xxx numbers in 1957 which could have been a logical continuation of the system as started with the XK 120. But why did Lucas use different numbers for the XK 140?
Towards 1960 Lucas changed the complete numbering system and as an example the later XK 150 wiring diagrams have the number W549 456 000 (9 figures).
This survey is far from complete but the importance of the Lucas Wiring Diagrams is well accepted by most of us, reason for me to present this survey now.
Final question: does anybody have a good copy of the 1954 issued Wiring Diagram W94641 and note that the 1951 issued version has the same number but may not be identical…
Bob K.