(Include at least one picture)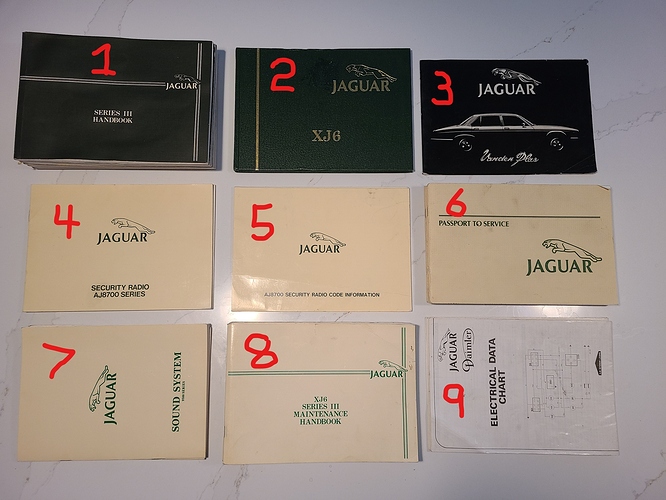 Description: I recently sold both of our Series III XJ6s and I am cleaning out the collection of manuals that I acquired over the past 20 years. I have the following 30 manuals to sell with the quantity that I have on hand listed below. If you didn't get any of the owners manuals with your XJ6 or if the ones that you have are damaged, this is an opportunity for you to complete your collection. The numbers below match the numbers on the documents in the attached picture.
Green Series III Handbook, quantity 8
Series III XJ6 hard cover owners manual from 1979-1980, quantity 1
Vanden Plas, quantity 1
Security Radio AJ8700 Series, quantity 4
AJ8700 Security Radio Code Information, quantity 2
Passport to Service, quantity 4
Sound System 9500 Series, quantity 3
XJ6 Series III Maintenance Handbook, quantity 4
Electrical Data Chart, quantity 3
Asking price (if selling): Prices below are in U.S. Dollars and numbers match the numbers written on the manuals in the pictures. Shipping is extra and will be determined by what is purchased and shipping address.
$12
$20
$2
$5
$2
$8
$10
$20
$7
Location: Ramona, California, USA
Contact information: Please send me a Personal Message (PM) with the number of the items that you are interested in purchasing and your shipping address. I will figure out the shipping costs and send you a PM back with the total amount due. I will accept PayPal and personal checks, but if you send a personal check I will wait until it clears my bank before shipping the manuals. Please let me know if you have an questions.
Cost of shipping (if selling): To be determined by what you purchase and your shipping address.
Willing to ship worldwide? Yes.
–
Please always be careful before sending money or valuables to someone you don't know. Use an escrow service if you're not 100% certain of the identity and integrity of the person you're dealing with.
By using this service you agree to resolve any and all disputes with the other party directly, and to indemnify and hold Jag-lovers harmless from any claims, losses, liability, or expenses (including attorneys' fees) that arise from your use of Jag-lovers and this service.