NOW THAT IS A WONDERFUL PICTURE!
E type , the way life should be!!!GTJOEY1314
That's awesome. Do you mind if I share that pic?
A little bit newer but I still use a Vega for my everyday needs. I guess I could use the E the same way if the hatch did not open to the side.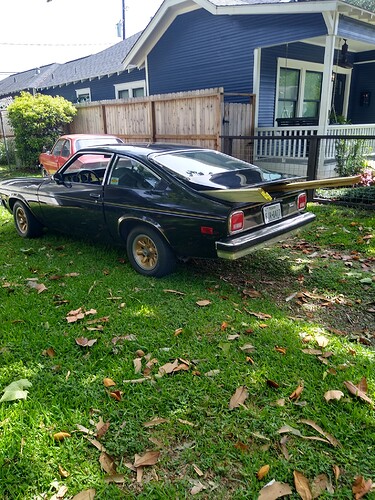 David
68 E-type FHC
Still a good-looking car!
Gold wheels and pinstripe? You use a Cosworth Vega to haul wood? I LOVE it!
I used my '62 as a daily driver for a year or two before I decided to restore it. Used it to get to work, used it for camping trips.
It never attracted much attention in those days. Most people would rather avoid associating with long haired hippies in rough old cars.

Chevrolet even sold the TENT-GO CAMP as a dealer accessory. Been a long time but I have camped in a Vega a few times. Pretty comfortable for me at 5' 7".
David
68 E-type FHC
So…this guy drives up to his dates house in an XKE convertible with a mattress on the back of the car…
That, or a '50 Nash…
Yes…but the guy got the date by tooling up to the girl in the "greatest crumpet collector known to man…" errr. probably without mattress attached at the time.
I clearly remember when Tweety was used pretty much daily to go get parts, including picking up and dropping off engines and blocks and other things at various machine shops.
Sadly, no one thought better of it, and there are no pictures of it.
A few years I was in Mesa, AZ visiting family and went to the Lowe's store. In the lot was a nice green S1 OTS, and and the owner approached while I was looking at it. While we chatted, he proceeded to put a couple sacks of concrete mix in the boot and a half dozen 8' treated 4x4s in the passenger side and tied them to the hood frame. At least he threw a towel over the seat to help prevent it from getting gouged up, but I was cringing the whole time. I wasn't sure whether to admire him for his "It's just a car" attitude, or do an intervention.
I did that with the 2+2 and also carried sacks of mulch, fertilizer and potting soil. Of course I carried a blanket that sat on the upholstery. If the upholstery is protected there isn't much difference between 100 lbs. of potting soil and 100 lbs. of luggage.
Quite true. But I really did cringe at a couple hundred pounds of lumber wedged underneath the dash and leaning against the seat back!
My sister had a old, well traveled 1973 full size Pontiac she nicknamed "Black Beauty" I borrowed it to pick up some 1"X6"X6' cedar fence boards for the fence I was installing. Fun fact: You can get over 220 of those suckers in the trunk and back seat. And that year Pontiac rides fairly well with the rear suspension on the bump stops.
Clive, I love that picture as well, noticed your rear window trim blew off in the wind…Fun times!