I haven't been ignoring my project to figure out the whole
climate control system… I've merely been waiting for the
vile brew to eat away at the epoxy surrounding the amp
circuit. After 10 days or so I finally got down to this: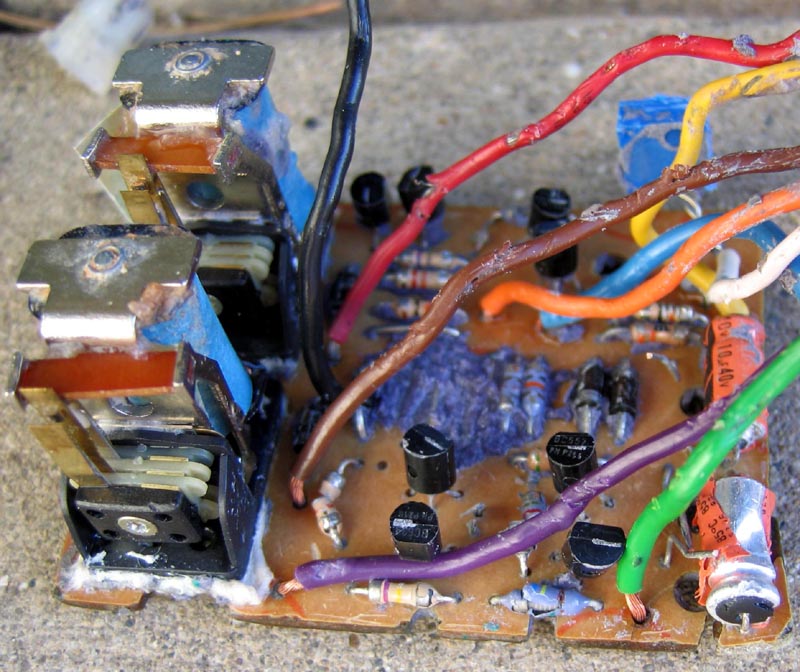 A few caps disintegrated, but I think I know their values
since I was watching it as they were getting eaten. The
plastic covers on the relays vaporized pretty quickly.
Between the color codes and using an ohmmeter I think I can
figure out the values of the various damaged resistors. The
lump of epoxy left in the center is just covering jumper
wires so there was no need to go further.
From looking at the Jaguar supplied schematic I can tell
there were some drawing errors, and the circuit traces on
the back are completely clean so I can figure all that out.
What does Jaguar get for one of these, something like $800?
Have a good look at what you're (over)paying for!
More reports as I make more progress…–
Duncan Brown 1985 SIII XJ6
Grayslake, IL, United States
–Posted using Jag-lovers JagFORUM [forums.jag-lovers.org]–
–Support Jag-lovers - Donate at http://www.jag-lovers.org/donate04.php –
===================================================
The archives and FAQ will answer many queries on the XJ series…
FAQs: http://www.jag-lovers.org/xjlovers/xjfaq/index.html
Archives: http://www.jag-lovers.org/lists/search.html
To remove yourself from this list, go to http://www.jag-lovers.org/cgi-bin/majordomo.
// please trim quoted text to context only