Get out the buffer. Piece of cake!
Well a guy in Tuscany is restoring this:

Crashed into a river and remained there for four and half years until water levels fell with the drought. He has almost finished the restoration after removing 2,400 lbs of mud, creatures and pollutants. The guy is a hero:
Full story:
https://rennlist.com/forums/993-forum/1120397-project-limoncella-restoring-993-into-a-cup-rsr-1-1-tribute.html
David
Great statement, by the owner…
Instead of losing my time watching political forum on the TV, or watching Sport, or silly programs (just my personal opinion), thanks God now I know what to do when i am home and dont really know what to do: how do you name this, hobby maybe?
There are people spending thousand dollar going tuna fishing, or skiing, or whatever.
This is something I can do at home, very practical, and I must say, also refreshing: the time I spend there doesn't encrease my tiredness at the end of the day, or during the weekend, but it relaxes me.
It is like having meditation…
Just might be one of the 49 black commemmoratives
Just to show we are not sexist, one for the ladies to drool over! Not.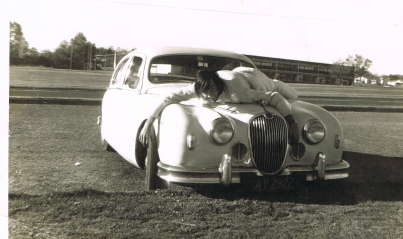 What makes you think that we're not sexist, John?
At my age I don't care……. I'll live my life sexist or not ….the way I want ……it's a privilege to be a Luddite and old man…who no longer needs to be pc ( except in "polite company")
Dateline: 1981 and this is my house and Jaguar in the driveway. It is a 65 that was rescued from an impound lot, belonging to an insurance company. The driver hit an abutment at speed and pushed the bonnet half way to the 'bulge' in a perfect 'vee'. This is the car three years later, and bodywork, paint and interior redone. More to do, but sold it shortly afterward to someone who knew nothing about these cars. It was number 2, as the first was a new 62 roadster.
It seems to be a thing these days here in Blighty - Sunday breakfast with cars. Today's gaggle of garage toys was mainly local, mainly modern, and mainly porker. There were eleven of them out of about thirty or forty cars plus a few powered two- wheelers.
Last Sunday was a 15 mile round trip, today's was 3.6 miles. Got another one next weekend, that'll be a round trip of nearer 175 miles.
Not entirely sure what the point is. 7 inch tyres stretched onto 12 inch wide rims; bottom of garage door doubling as a side skirt; no attempt to hide the plastic wheel arch extensions.
Next to it this was parked.

A dash badge announced this was a 812.
This seems to be the thing in Houston too. I am quickly bored with most newer cars since I usually do not like the styling and even if they do have something interesting under the bonnet (hood) you cannot see if for all the plastic coverings. With the older stuff there is usually an over-abundance of boring iron block, push rod V8s too. I got tired of those back in the 70s and 80s since in most cases the only thing they do well is go fast in a straight line.
David
68 E-type FHC
Maybe I shouldn't say this but…
Several of the more expensive cars, newer porkers etc, were driven by gentlemen of the height challenged variety, accompanied by a much younger but quite well nourished and underdressed non trans female.
What you couldn't get a photo of the draped girls on the cars?
They were too well nourished not to leave craters in the panelwork. Now, an open door with a loooong pair of legs… nope, still too chunky!
No words left to answer that my friend
I think someone was looking down on us at this point of our trip. This was after the first 900 miles of a 2500 mile round trip to the All British Field Meet in Vancouver on May 20.
The RCMP pulled us over on the way home to share a cup of coffee and donut to celebrate their 150th anniversary. The photo opportunity was too good to pass up!
A Series 1, Series 2 and a Series 3 - a perfect trifecta!
I'm beginning to think a prerequisite to owning an E-type is grey hair … like mine, what's left of it, anyway.